Restaurants
Both breakfast and dinner are served as a rich "buffet" in the spacious hotel restaurant with a terrace. The board restaurant is a-la-card and guests here enjoying all kinds of both Mediterranean and continental food and drink. Next to the reception there is an aperitif bar.
The restaurant "Maestral" which is located on the nudist beach itself, is an ideal place for lovers of Mediterranean cuisine. Top quality fish, good wine and live music during evening hours will make you feel gastronomically complete.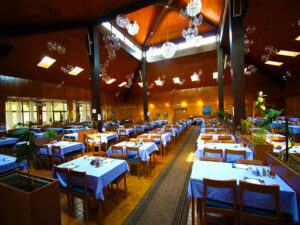 The restaurant "Barbana" is located on the mouth of the river Bojana into the sea, encircled by water, reed, bamboos and palm trees. In such a perfect atmosphere made of wood you can order all kinds of food and drink. The nights on the Barbana are most beautiful – illuminated by hundreds of candles where you can hear the sounds of some soft music.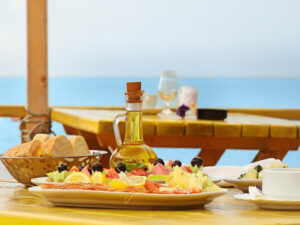 Sports and recreation
A variety of sport activities on Ada Bojana ensure an active vacation. For some sport and recreation activity the hotel guests may use the tennis court, the small football pitch, play volleyball on the beach, and table-tennis.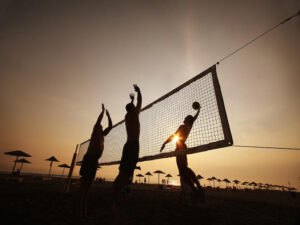 One of the most significant attractions in Ada's offer and a recognizable symbol of this summer resort is horse riding. An ideal location for riding and walking is the nudist beach which is almost three kilometres long. Go for a walk at twilight or dawn and experience the unforgettable moments when nature plays with colours.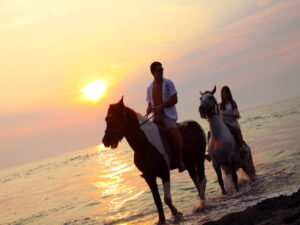 Another offer of Ada Bojana are water sports: surfing and sailing, and for the fearless there is a school for extreme sports like windsurfing and kitesurfing. If you seek to get your body and soul in perfect balance try Ada Bojana Yoga. In order to rent all the necessary accessories guests may get information on the reception, and if they want to relax after an active day, we recommend massages which are done by top masseurs. On offer Ada Bojana are cruising around the island by boat, renting bicycles and fishing equipment